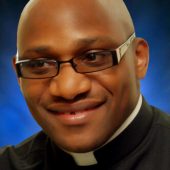 From Lagos, Nigeria, Father Marcel was ordained in 2003. After which he served as Personal Secretary to the Archbishop of Lagos, and also Archdiocesan Secretary and Master of Ceremonies for 7 years. He edited and published a collection of the Cardinal's messages, homilies, and speeches. He also published three other books including a book of his personal poems.
Following his archdiocesan services in Nigeria, Father Marcel came to the United States to pursue a Master's Degree in Pastoral Care and Counseling from Fordham University,  New York, and is now working on his Doctoral Degree in Pastoral Psychology. While studying at Fordham, he served as Parochial Vicar at St. Charles Borromeo Parish in Manhattan and as Director of Religious Education in the Parish.
Having experienced God's love as a small boy and through the years, especially from the example of other priests reaching out to those in need, Father Marcel is happy to be among university students today, spreading that love and faith.
For Emergency Assistance
Contact Peggy Beckman
---
CONTACT US
336.758.5210 – Chaplain's Office
336.758.5248 – Campus Ministry Office

---
QUICK LINKS
---