This fund is set up to assist Faculty, Staff and Students in times of financial hardship.  This includes individuals that work on the Wake Forest University Reynolda Campus, Graylyn or Wake Downtown but are employed by an outside contracted group such as Aramark.  Limited funds are available.  Please read the Guiding Principles of the Fund .  You may stop by the Office of the Chaplain for further information.
The Chaplain's Emergency Fund is made possible by the generous donations of individuals, organizations and friends of the University.  To donate to this fund, you may send your check to:  Chaplain's Office, PO Box 7204, Winston Salem, NC  27109 or donate online.
WFU Alum raises money for Chaplain's Emergency Fund through cross-country hot dog trip
John Champlin ('06, MBA '15) is embarking on a cross-country hot dog trip that he is chronicling on his Instagram account (@tourdefrank).  In addition, he is working to raise funds for the Chaplain's Office Emergency Fund.  His goal is $1 per mile he will travel from Virginia Beach, VA to Los Angeles, CA.  100% of the proceeds from his gofundme campaign (https://www.gofundme.com/tourdefrank) will be donated to the Chaplain's Office to support their work in providing financial assistance to faculty, staff, students, and contract workers who find themselves in times of need.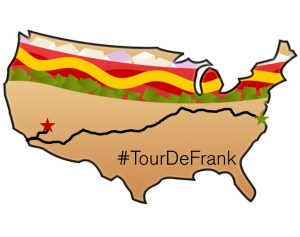 As you feel comfortable, feel free to share on any of your listservs/social media accounts.  As John asks for corporate donations/sponsorship, the name of the game is followers.  Even if you feel unable to offer a donation, a "follow" can be very helpful.