University Chaplain
Tim Auman, Ph.D., MDiv., is the University Chaplain and is the founder and director of the MindfulWake initiative.  An ordained United Methodist minister with years of experience in the local church, campus ministry, hospice, spiritual direction, and mindfulness education, Tim brings a deep interest in the transformative wisdom of the Christian contemplative tradition, trauma-informed mindfulness practices, earth-based spirituality, and interreligious/interspiritual approaches to spiritual health in caring for students, faculty, and staff.
The MindfulWake initiative is a program of practical, scientifically supported teachings and practices designed to reduce stress, cultivate a sustained sense of compassion, and promote physical health and emotional well-being. Tim takes participants on a journey of self-discovery that reveals a simple yet powerful truth: equanimity, peace, contentment, and joy are inside us already—all we need are the tools to access them.
Tim is actively involved in the Plum Village Tradition of Engaged Buddhism, founded by Zen Master Thich Nhat Hanh. He leads meditation workshops, classes, and retreats that help participants gain skills that apply mindfulness and self-compassion to relationships, conflict, trauma, organizational wisdom, and societal change.
Tim is married to the Rev. Heidi Gessner, an Ordained United Church of Christ minister who serves as the Bereavement Coordinator and Palliative Care Chaplain for UNC Health. The couple has one daughter, Addie, and three sons, Micah, Noah, and Jon. On weekends you might find Tim enjoying the work of fatherhood, hanging out in bookstores, or exploring the "Foodie Paradise" near his home in Durham.
Religious/Spiritual Affiliation
United Methodist Church (UMC)
Plum Village Tradition of Engaged Buddhism
Education
Bachelor of Arts degree
Master of Divinity degree
Doctor of Philosophy degree
Certified Spiritual Director
Certified Koru Mindfulness Teacher
Areas of Interest
Meditation
Mindful Learning
The Christian Contemplative Tradition
Spiritually Engaged Activism
The Four Noble Truths as a Framework for Contemplative Care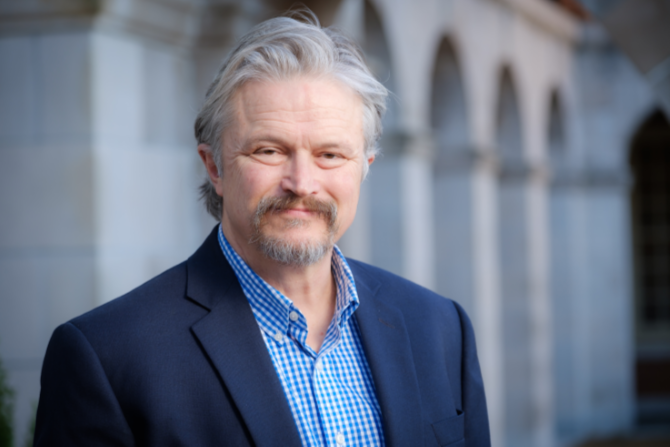 Contact
Email: aumantl@wfu.edu
Phone: 336.758.5017
Office: Reynolda Hall, Suite 8
Media Requests
The Office of Communications is responsible for communicating information regarding programs, and other news to appropriate media sources. Chaplains are available to provide comments for a story or be interviewed (recorded and/or live). To request, contact Cheryl Walker, director of news and communications for Wake Forest University.