Main Content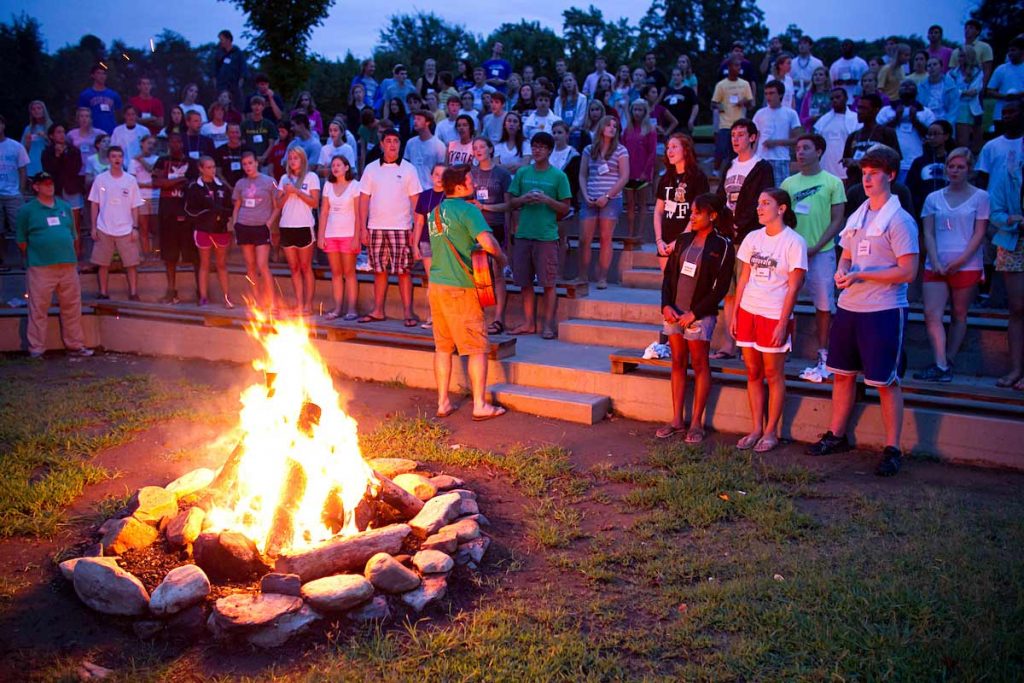 SUMMIT – 65th Annual Campus Ministry Conference Sponsored by the Office of the University Chaplain and Campus Ministry
What is SUMMIT ?
SUMMIT, the original Wake Forest pre-orientation program, takes place at nearby YMCA Camp Cheerio, atop the gorgeous Blue Ridge Mountains. Students, faculty, administrators, and Christian Campus Ministers lead a variety of programs and activities which introduce new students to one another and to the variety of Christian life on campus. For over 60 years, hundreds of new students have come to love SUMMIT and all the wonderful relationships that are built there. We hope you'll join the tradition, too!
Here's what students have to say:
I am so thankful I made the decision to come to Summit. It planted seeds that grew into some of the sweetest friendships, and I was so grateful for rich community during the transition into college. KL '19
I love Summit because it showed me that there is a great community of Christians at Wake who care about you and want to walk through life alongside you. AR '19
Summit not only helped me transition physically to Wake Forest, but it also equipped me spiritually and relationally. Summit connected me to fellow freshmen and upperclassmen, many of whom are still my closest friends today.  AMR '19
Program Highlights
Recreation
Camp Cheerio has excellent recreational facilities including canoeing, hiking trails, an art studio, 27-hole disc-golf, ping pong, climbing wall, rope swings, basketball courts, and more.
ALSO??? The food is amazing.
Discussion Groups
First year students are assigned to discussion groups of 6-8 people under the leadership of 2 upper-class students. Discussion group sessions are designed to help you learn from one another and build relationships with peers and upper-class students who you can count on as friends and mentors after returning to campus.
Talent Show
If you can sing, dance, play an instrument, read poetry, do stand-up comedy, tell stories, do magic tricks, or act (what else have we forgotten?) come prepared to participate in the talent show. It's an audience favorite year after year!
Square Dance
I know. It sounds corny, but it is always a student favorite!
Dates
August 16-19, 2020: You will arrive on campus a few days before first-year move-in day, travel with us to Camp Cheerio, and return to campus in time for New Deac Week to begin.
Deadline to apply is July 15, 2020 (contact beckmapp@nullwfu.edu if an extension is needed)
Cost
The total cost for the program is $375 which includes early move-in fees to Residence Life and Housing.
A deposit of $200 is due with registration.
Registration
Registration is limited to the first 200 students who apply.
Limited scholarships are available. For more information, please call The Office of the Chaplain at 336-758-5210.
What to Bring
Students are housed in comfortable cabins with attached bathrooms. Bring a sleeping bag or sheets and pillow, towel, toiletries, informal clothing, flashlight, water bottle, rain gear, swimsuit, light jacket or sweater, money for snacks and your Bible.
For Emergency Assistance
Contact Peggy Beckman
---
CONTACT US
336.758.5210 – Chaplain's Office
336.758.5248 – Campus Ministry Office

---
QUICK LINKS
---