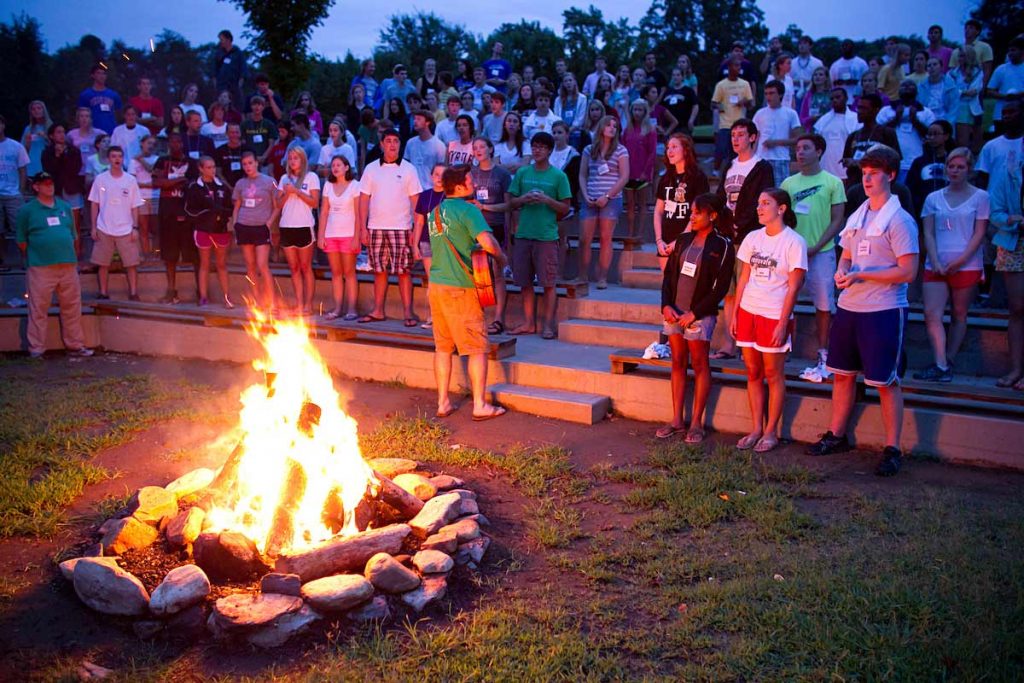 SUMMIT – 63rd Annual Campus Ministry Conference Sponsored by the Office of the University Chaplain and Campus Ministry
Welcome to Wake Forest!
Life at Wake Forest is a series of opportunities, crises and adventures. New people, places and ideas. As you begin this new adventure, in many ways you will be starting over again. Choosing a major. Facing your first college mid-term exam. Exploring relationships and changing the way you feel about yourself. Living in a residence hall. Growing up in totally new, amazing and frightening ways!
Your relationship with God will probably change, too. The God your parents and youth group counselor taught you about is alive and well and traveling to Wake Forest with you. In fact, God is already on campus anxiously awaiting your arrival. Maybe in some unexpected places … maybe in some unexpected ways, and amid some unexpected situations. As you begin to make decisions about your life's path, remember that God is ever present and walking beside you.
Welcome to Wake Forest! God is here, too!
What is SUMMIT ?
Summit, an informal orientation to Wake Forest, is held at nearby YMCA Camp Cheerio, atop the Blue Ridge Mountains. Students, faculty, administrators and campus ministers lead a variety of programs and activities which introduce students to one another and to campus life. For the past 61 years a significant number of new students have chosen to attend; we hope that you will join us this year.
Our Theme:
Coming Soon!
Program Highlights
Discussion Groups
New students are assigned to small discussion groups under the leadership of two upperclass students. Several discussion group sessions are designed to help you voice your hopes and fears about the coming semester. In particular, you will be encouraged to talk about your faith and examine resources that might strengthen you for the days ahead.
Panel Discussion: Life at Wake Forest
Get a behind-the-scenes look at what life is really like at Wake Forest from students. You'll hear about the interplay of academics, religion, athletics, the arts, Greek life, study-abroad opportunities, traditions, etc.
Talent Show
If you can sing, dance, play an instrument, read poetry, do stand-up comedy, tell stories, do magic tricks, etc., come prepared to participate in the talent show. Otherwise, join us in the audience.
Square Dance
I know. It sounds corny, but it is one of the most fun things ever!
Schedule
August 19-22, 2018
Registration and Cost
The total cost for the program is $375 which includes early move-in fees to the University.  To register,click on the application form AND the medical form and submit as soon as possible. Deadline to apply is August 1. Registration is limited to the first 200 students who respond.  For more information, please call the Chaplain's Office at 336-758-5210.
What to Bring
Students are housed in comfortable cabins with attached bathrooms. Bring a sleeping bag or sheets and pillow, towel, toiletries, informal clothing, flashlight, water bottle, rain gear, swimsuit, light jacket or sweater, money for snacks and your Bible.
Religious Life at Wake Forest
As part of fulfilling its mission and achieving its goals, Wake Forest University seeks to encourage students, faculty, administrators and staff to "explore the spiritual dimensions of self and perceptions of the world." The religious and spiritual components of the University's programming are intended to encourage the pursuit of meaning through spiritual reflection and free inquiry, enabling a wide circle of inclusion and identifications, advancing mutual understanding and respect among differing traditions, while at the same time fostering Wake Forest's Baptist history and traditions in real and tangible ways.
Christian Campus Ministry
Twelve Christian student groups representing Protestant, Catholic, and Greek Orthodox denominations, as well as non-denominational groups and four Christian performance groups, make Wake Forest University a rich and more diverse environment to the extent that our learning deepens mutual understanding of one another's beliefs.
The Campus Ministry staff represents:
Baptist
Lutheran
Episcopal
Catholic
Greek Orthodox
Presbyterian Church in America (Reformed University Fellowship)
Presbyterian USA (Presbyterian Student Fellowship/U-Kirk)
United Methodist.
Athletes in Action
InterVarsity Christian Fellowship
CRU (formerly Campus Crusade for Christ)
Young Life College
Four Christian performance groups include
Chi Rho (male a cappella group)
Gospel Choir
Living Parables (Christian drama troupe)
Minor Variation (female a cappella group)