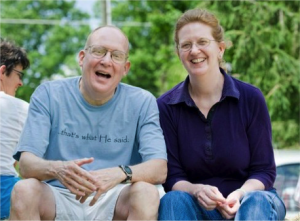 I'm Larry Jones, and I have served as the Wesley Foundation campus minister since 2005. I graduated from Wake Forest in 1976 (I know, you are very surprised because you looked at this picture and thought – wow, he is really a young man!) and from Duke University's Divinity School in 1979. I was ordained an elder in the United Methodist Church in 1982. My wife, Susan, and I got married in 1978: we have two children Aaron and Hannah.
I have a number of interests that intertwine with my work as a campus minister. I am fortunate that a number of the students are willing to put up with the "old man" to lift weights, run, swim, and bike together. I also like to read, and I am always happy to engage in theological and philosophical discussions based on what interests students have.
I am thankful every day that our Lord Jesus Christ has enabled me to serve His kingdom through the Wesley Foundation, and I welcome any communication or questions you might have about the activities of Wesley.
For Emergency Assistance
Contact Peggy Beckman
---
CONTACT US
336.758.5210 – Chaplain's Office
336.758.5248 – Campus Ministry Office

---
QUICK LINKS
---