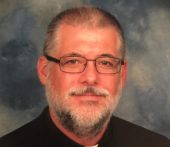 Fr. Costa (Millard) Shepherd is a native of the Winston-Salem area. He is a convert to the Orthodox faith and came into the church in 1988. He is a former law enforcement officer, who retired after 30 years of service. Fr. Costa has a bachelor's degree in Criminal Justice and a Master's Degree in Applied Orthodox Christian Theology through the St. John of Damascus Institute of Theology of the University of Balamand, Antiochian House of Studies. He was ordained to the Diaconate in 2010 and to the Priesthood in 2016 by His Eminence Metropolitan Alexios.
Fr. Costa is married to Presvytera Stacy and they have two sons James, and Speros who is married to his wife Lauren, and two grandchildren Logan and Elliana.
Fr. Costa, in addition to his work with the ministries of the parish, serves as one of the directors of the Metropolis of Atlanta's St. Stephen's Summer Camp, is involved in volunteer Crisis Chaplaincy with local emergency responders, and is a member of the International Orthodox Christian Charities (IOCC) Frontline Disaster Response Team.
For Emergency Assistance
Contact Peggy Beckman
---
CONTACT US
336.758.5210 – Chaplain's Office
336.758.5248 – Campus Ministry Office

---
QUICK LINKS
---