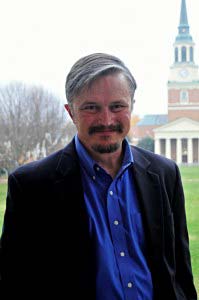 The Reverend Tim Auman became the University Chaplain to Wake Forest in July of 2003. He has two decades of experience in ministry in higher education, multi-faith programming, pastoral care, and spiritual formation.
Tim is a graduate of Wofford College and earned his Masters of Divinity degree at Duke University.  He is an ordained elder in the Western North Carolina Annual Conference of the United Methodist Church.  Tim is also a certified spiritual director who enjoys the holy curiosity that is at the heart of the major questions common to people throughout the ages.  Why are we here?  How shall we live our lives?  Where are we going?  He is particularly eager to help students accept that they are worthy of love just as they are.  In an increasingly busy world, Tim believes that students should be grounded by a deep sense of belonging and guided by a resilient spirit.
When not working, Tim enjoys hiking, reading, hanging out with friends at local coffee shops, and remaining open, ready to receive new gifts of wisdom, connection, and depth of soul.