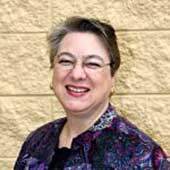 Gail H. Bretan, PhD
Program Director for Jewish Life
bretangh@nullwfu.edu
(336) 758-4056
Gail provides pastoral leadership to Jewish students, staff, and faculty at Wake Forest University.  She is also a resource to the broader Triad Community (Jewish and non-Jewish) teaching classes and speaking at ecumenical events.  Gail has a very varied educational, vocational, and experiential background.  She earned 4 college degrees – 2 in education, one in business, and one in (rehab) counseling.
She has been a college professor at three different colleges, the director of a comprehensive pain and stress management program, the director of Jewish family education program, and even the manager of a fast food restaurant.
Oh, and she traveled around the world for a year and half on a bicycle, camping in a tent.
Obviously she likes to mix it up – learn and do!  And she is not done yet!
Gail lives in Greensboro with her marriage partner of 29 years, and best-friend, Charles, and their two college-aged sons who are starting their own adventures.