A mindful Wake Forest will change the world.
What is MINDFULWAKE?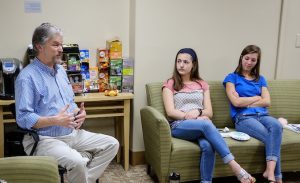 The central objective of MINDFULWAKE is to help students, faculty, staff and campus communities develop mindfulness practices that deepen self-awareness and increase wellbeing.
Mindfulness is wordless. It is meeting life as it is, moment-by-moment, wordlessly attending to our thoughts, emotions, bodily sensations, and surrounding environment. It is opening to not just the fragments of our lives that we like or dislike or view as important, but the whole of our experience.
Mindfulness has a variety of research-based impacts, including a reduction in toxic stress, and an improvement in job satisfaction, emotional regulation, focus, and executive functioning.
Who is MINDFULWAKE for?
 Students, faculty, staff & administrators
Alumni, community members & friends of Wake Forest University
Participants will learn:
The basics of the core mindfulness practices
The science behind mindfulness
Practices that cultivate emotional intelligence (EQ)
Mindful leadership principles
Practices that cultivate positive states of mind like gratitude, kindness, joy & compassion
The role mindfulness plays in communication and civic engagement
What to expect:
Our methods are simple and easy to apply both in and out of the classroom. Our focus is on stress–reduction, emotional resilience, and an increased sense of wellbeing.
With experience in pastoral care and mindfulness-based coaching, the Office of the Chaplain is equipped to educate and support students, faculty and staff in taking their first steps into mindfulness, as well as those who already have an established mindfulness practice.
What we offer:
Koru Mindfulness Basic Classes
Koru Mindfulness 2.0 Classes
Koru Mindfulness Half-Day Retreats
Weekly Meditation Drop-In Groups
Mindfulness-Based Coaching
MindfulWake Book Discussion Groups